With the Minor League Cricket 2022 season starting this weekend, it's time to take a deep dive into each division to recap the 2021 campaign and see the major moves of the off-season. MiLC stats guru Tom Nielsen returns with the numbers that matter to preview the season for the Central Division, starting on Saturday, June 25. 
Central Division
The Central Division had a fierce fight at the top of the table in 2021, with the Irving Athletics (now Lone Star Athletics), Houston Hurricanes, and Michigan Cricket Stars sporting similarly excellent records at the top, all with three or fewer losses on the season. The Michigan Cricket Stars were the odd team out despite easily having the best run rate in the division. In addition to the Athletics name change, the Irving Mustangs become the Dallas Mustangs, while the Chicago Catchers have departed and the Chicago Tigers join for the 2022 season.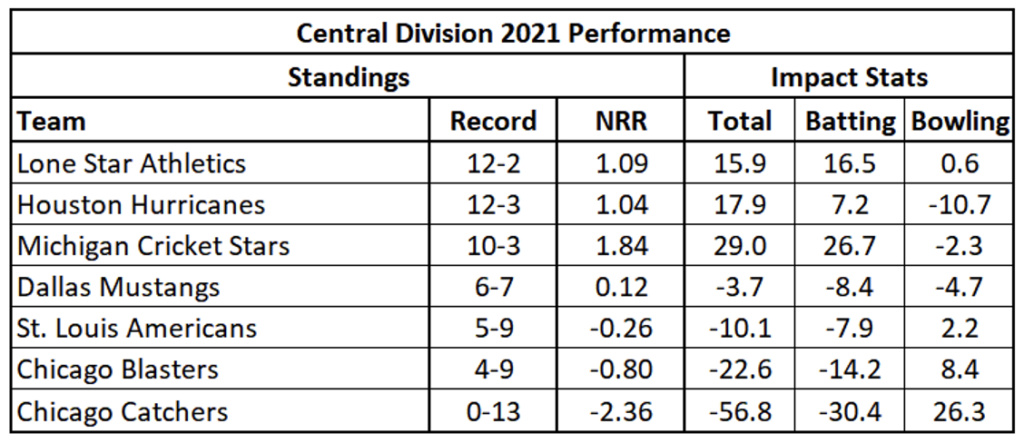 Lone Star Athletics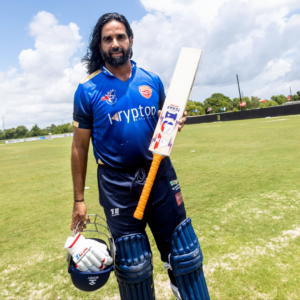 2021 Performance: 12-2, 1st place; Batting Impact of +16.5 runs per 120 balls, 2nd in Division; Bowling Impact of +0.6 runs per 120 balls, 4th in Division
Big Additions: Kamran Shaikh, Shuja Naqvi
Big Departures: Awais Zia, Laksh Parikh
The Lone Star Athletics just barely nipped first place in a tight three-team race for first in the Central Division in 2021. The Athletics gave eventual champions Silicon Valley Strikers a great fight in the first round of the playoffs – losing game one by only 8 runs before taking game two and ultimately falling in game three to perhaps the most legendary innings of Minor League Cricket, Unmukt Chand's 132* (69) in a chase that was wrapped up with 3 balls to spare.
The Athletics had a middle of the road bowling attack in 2021 and lose two of their most effective bowlers: Awais Zia (-1.09 runs per over bowling impact) to the Chicago Blasters and Laksh Parikh (team-leading 20 wickets) to injury. Returning is Derval Green (-1.09 impact), as well as their most used bowlers, Jannisar Khan and Nitish Kumar.
The backbone of the Athletics' success last year was a strong batting lineup, and they return 70% of their production from 2021. The loss of Awais Zia stings on the batting side as well, where he was the most productive batter, scoring 345 runs at a strike rate of 133, good for an impact of +7.3 runs per innings. The returning trio of Nitish Kumar, Hamza Bangash, and Jannisar Khan will be key for the Athletics, each having better than a +4 runs per inning batting impact last year. Wicket-keeper Shayan Jahangir should contribute, having smashed 127 runs at a 195 strike rate over two matches – 59 (25) and 68 (40) – against MiLC-heavy bowling attacks in the Unity Cup earlier this year. Kamran Shaikh comes over from the Blasters (swapping spots with Awais Zia), having made 172 runs for the Chicago squad in 2021.
Houston Hurricanes
2021 Performance: 12-3, 2nd place; Batting Impact +7.2, 3rd in Division; Bowling Impact -10.7, 1st in Division
Big Additions: Ninad Nimbalkar, Ali Shafique, Mohammad Ilyas
Big Departures: Willem Ludick, Slade Van Staden, Ashley Nurse, Naseer Jamali, Chaim Holder
Houston took second place in the division last year with a strong 12-3 record, taking a 5-wicket win over the Irving Mustangs on the final weekend to clinch the division's final playoff spot over the Michigan Cricket Stars. In the playoffs, Houston was swept by the Western Division's Golden State Grizzlies, falling just 11 runs short in a valiant chase in game 2.
The star of the Hurricanes' excellent bowling attack in 2021 returns in U21 bowler Karthik Gattepalli. Gattepalli took 24 wickets in 64 overs at a 6.14 economy, good for a total impact of -104 runs across the season (-1.62 per over), sixth best in Minor League Cricket. Also returning to support Gattepalli is Usman Rafiq (17 wickets in 52 overs) and US National Team star Ali Khan. The Hurricanes lose third-leading wicket taker Naseer Jamali (15 wickets, -0.56 impact per over) to the Dallas Mustangs. Wild Card selection Ali Shafique and Marquee player Mohammad Ilyas should also be able to provide some bowling support in their Minor League Cricket debuts.
The Hurricanes return just 21% of their batting production from 2021, losing some of the most talented batters in Minor League Cricket last year – Willem Ludick, Slade van Staden and Sushant Modani. The three batters combined for 855 runs in 2021, with Ludick #5 in the league in Total Batting Impact at +131 runs across the season and +10.1 per match. MiLC newcomer Rameez Raja has put up strong numbers in club cricket across Texas, including 361 runs across 9 matches at a 158 strike rate in T20 matches in the Houston Cricket League last year. Raja along with returnees Saqlain Haider (294 runs, +3.3 runs per match) and Usman Rafiq (163 runs at +1.1) will need to step up to replace the lost production.
Michigan Cricket Stars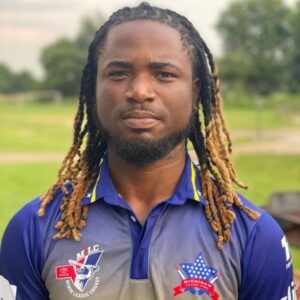 2021 Performance: 10-3, 3rd place; Batting Impact +26.7, 1st in Division; Bowling Impact -2.3, 3rd in Division
Big Additions: Zeeshan Maqsood, Nauman Anwar, Mohammad Mohsin
Big Departures: Nikhil Kanchan, Nicholas Kirton, Saad bin Zafar, Leniko Boucher
The Michigan Cricket Stars just barely missed out on the playoffs in 2021 despite six unbeaten matches to end the season. Their only three losses came to the playoff teams from the division – two to the Athletics and one to the Hurricanes. The Cricket Stars lose a good chunk of their roster going into 2022 and are reloading from outside the league, with no new players from other MiLC teams. Chief amongst these newcomers are their Wildcard and Marquee selections: Zeeshan Maqsood, captain of the Oman National Team and Nauman Anwar and Mohammad Mohsin of Pakistan (Anwar receiving a Pakistan cap in T20I play in 2015). All three have potential to contribute both batting and bowling.
The Michigan Cricket Stars used just six bowlers for more than 20 overs in 2021, an unusually constant bowling attack. Just two of them return: Matthew Forde, who took 20 wickets from 48.5 overs with a bowling impact of -0.26 runs per over and Zia Khan (17 wickets from 43.0 overs with a bowling impact of -0.25).
The Cricket Stars had the best team batting impact in the league in 2021, worth an extra +26.7 runs per 120 balls. They were the fastest scoring team in the Pacific Conference at a 132 strike rate, well above the second-place East Bay Blazers at 124. Ryan Scott returns as one of the most exciting batters of 2021, when he scored 446 runs at an obscene 181 strike rate, good for the third best Total Batting Impact in Minor League Cricket, +151 runs, +11.6 per match. Ryan Scott loses his opening partner Leniko Boucher, and number three Nikhil Kanchan (380 runs in 12 innings) departs for the St. Louis Americans. Matthew Forde can provide some big hitting at the death, having scored 139 runs off just 73 balls in mostly late-game situations in 2021.
Dallas Mustangs
2021 Performance: 6-7, 4th place; Batting Impact -8.4, 5th in Division; Bowling Impact -4.7, 2nd in Division
Big Additions: Hussain Talat, Sujith Gowda, Sushant Modani, Naseer Jamali
Big Departures: Muhammad Waqas Saleem, Ninad Nimbalkar, Najaf Shah, Rayyan Khan Pathan
The Mustangs lost their last three matches to stumble to a 6-7 record last year, good for mid-table in the Central Division. Coming into 2022 rebranded as the Dallas Mustangs, they retain roughly half of their production from 2021: slightly more on the bowling side than batting.
Left-arm spinner and U19 representative Ali Sheikh returns as the top bowler for the Mustangs in 2022, after ringing up 15 wickets in 36.3 overs at a bowling impact of -1.28 runs per over last season. The other main prongs of the bowling attack return – Adnan Haroon, Burt Cockley, and Nosthush Kenjige (when available). The Mustangs take Naseer Jamali away from rivals Houston, a big add to the bowling setup, as Jamali took 15 wickets from 48 overs in 2021 at an impact of -0.56 runs per over.
The Dallas Mustangs have set up a potentially formidable batting attack in 2022. Returning from last season is one of MiLC's biggest names in Corey Anderson, who led the team with 311 runs at a solid impact of +4.1 runs per match. They also made two of the strongest batting additions in the league: Sujith Gowda, fourth best in Minor League Cricket by Total Batting Impact – 481 runs at a 147 strike rate for an impact of +10.8 runs per match; and Sushant Modani, a reliable batter who wasn't completely on form in MiLC play but has been very solid for the US National Team this summer. Wild Card selection and batting all-rounder Hussain Talat is a veteran of 18 T20Is for Pakistan, as recently as February 2021. Some of the Mustangs' success in 2022 may depend on availability of their stars, including US National Teamers Sushant Modani and Nosthush Kenjige.
St. Louis Americans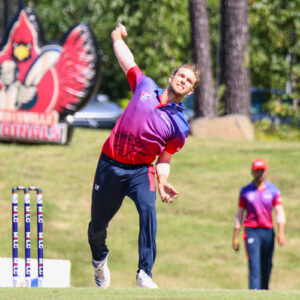 2021 Performance: 5-9, 5th place; Batting Impact -7.9, 4th in Division; Bowling Impact +2.2, 5th in Division
Big Additions: Justin Dill, Nikhil Kanchan
Big Departures: Obus Pienaar, Surjit Singh, Siddharth Trivedi
The St. Louis Americans had a somewhat challenging 2021 season, finishing at 5-9 and fifth in the division, though there were a few close losses mixed in. One of the league's biggest stars in Obus Pienaar departs for the Morrisville Raptors, a big blow for the Americans on both sides of the ball.
The Americans lose the core of their bowling attack: their four top wicket takers (including Obus) depart the squad coming into 2022. Incredible pressure will be placed on newcomer Justin Dill, who helped lead the New Jersey Stallions to the Atlantic Conference title in 2021 with 21 wickets in 64.0 overs. Dill was vital in the playoff hunt for the Stallions, taking 6 wickets in his last 4 regular season matches at a tight economy of 5.07.
St. Louis also makes a huge addition on the batting side with Nikhil Kanchan coming over from the Michigan Cricket Stars. Kanchan was a consistent presence in the middle of a hard-hitting Cricket Stars batting lineup, compiling 380 runs across 12 matches at an impact of +3.6 runs per match. The big returnee for the Americans is Luke Schofield, who had 332 runs at an impact of +3.3 per match. Justin Dill can also provide some runs down the order when needed.
Chicago Blasters
2021 Performance: 4-9, 6th place; Batting Impact -14.2, 6th in Division; Bowling Impact +8.4, 6th in Division
Big Additions: Awais Zia, Abir Chippa, Muhammad Waqas Saleem, Pankaj Kampli, Shreyas Ramesh
Big Departures: Najam Iqbal, Kamran Shaikh
The Blasters had an uneven season in 2021, finishing second to last in the division with a 4-9 record, highlighted by a 15-run win over the eventual division winner Athletics. The Blasters had somewhat inconsistent player usage last year, with only three players playing 10+ games. With a few interesting additions over the off-season, consistent player availability could see the Blasters moving up the standings in 2022.
Right-arm spinner Najam Iqbal departs over the off-season after forming the backbone of the Blasters' bowling attack in 2021, finishing eighth in all Minor League Cricket in Total Bowling Impact while restricting opponents' totals by an impressive 2 runs per over. There is plenty of incoming production for the Blasters though, who have added Abir Chippa (-1.02 impact per over, 12 wickets in 40.0 overs), Muhammad Waqas Saleem (-1.24 impact, 7 wickets in 27.0 overs) and Awais Zia (-1.09 impact, 10 wickets in 30.0 overs). The newcomers will combine with returnee Datta Prakash Y, who made it into the Midwest Zone squad for the National Championships in 2021.
The Blasters struggled batting-wise in 2021, finishing with a -14.2 batting impact per 120 balls, third worst in the Conference. 2022 is looking improved as the Blasters keep their biggest contributors. Fahad Babar (Batting Impact of +7 runs per match from just 5 matches), Mohit Patel, Shaheer Hasan, and wicket-keeper Ashhar Medhi. The most significant addition is Awais Zia from the division-winning Athletics, who had 345 runs at a 133 strike rate and batting impact of +7.3 runs per match. Also coming into the squad are Muhammad Waqas Saleem from the Mustangs and Pankaj Kampli from the now-defunct Chicago Catchers. All in all, it's a batting lineup that has significantly more depth. As with many teams in the league, success may depend on consistent player availability, but there's a lot of potential here for the Blasters.
Chicago Tigers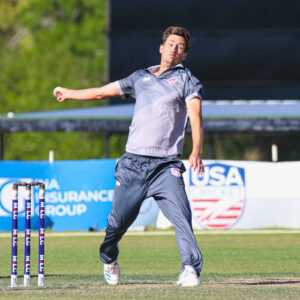 2021 Performance: 0-13, 7th place; Batting Impact -30.4, 7th in Division; Bowling Impact +26.3, 7th in Division
Big Additions: Saad Ali, Calvin Savage
Big Departures: N/A
The Tigers arrive to Chicago while the Catchers depart, who had the unfortunate distinction of being the only winless team in the inaugural season of Minor League Cricket. The Tigers mostly make a fresh start in 2022, keeping a few pieces from the Catchers but mostly blazing a new path.
The most effective bowler of 2021 for the Catchers comes back for the Tigers in Ranadeep Aleti, who took 10 wickets across 37.0 overs at a bowling impact of -0.51 runs per over. All-Rounder Calvin Savage comes over from professional cricket in South Africa and may be an opening and death bowler for the Tigers.
All-rounder Karan Kumar (who was nice enough to chat with the author on the boundary rope in a club match last week) joins the Tigers from the Catchers, having been the second highest scorer for the Catchers in 2021, taking 260 runs across 12 matches. Along with Calvin Savage, who made a wild 40* (10) in Chicago-area club cricket earlier in the summer, Saad Ali should form the backbone of the Tigers batting lineup in 2022. Saad Ali was the second highest scorer at the US Men's 50-over National Championships in 2021, scoring 241 runs in just 3 matches, including a 134 (119) against a strong Eastern Zone bowling attack.