With the overall Tournament Best XI already announced, Tom Nielsen now takes a look at the best team from the 2022 Minor League Cricket season currently available for selection by the USA.
Shayan Jahangir, Lone Star Athletics
Batting: 507 Runs, 134 Strike Rate, 4 50s, +6.8 Impact per Match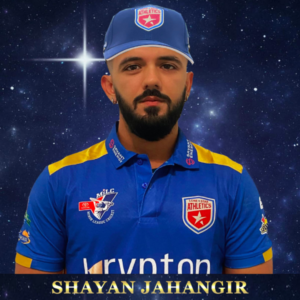 Shayan Jahangir was a beacon of stability in a Lone Star Athletics lineup that struggled to produce runs this year. Jahangir's 507 runs were good for second best in the Central Division, and he had unmatched consistency, scoring 45+ runs in seven of his 12 matches, including the first five of the year, while maintaining a respectable strike rate of 134. Jahangir's lowest score on the season was 12, and he was the only player in Minor League Cricket history to appear in at least nine matches in a season and not go out for single digits.
Hanchard Hamilton, Atlanta Lightning (WK)
Batting: 374 Runs, 126 Strike Rate, 5 50s, +3.6 Impact per Match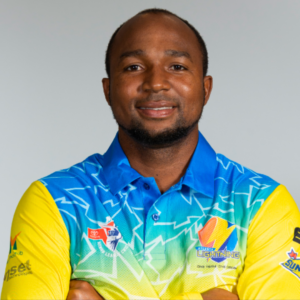 Hanchard Hamilton was a key cog in a deep Atlanta Lightning batting attack that had three 300+ run scorers on the season. After a slow start to the year, Hamilton tore it up in the last three weekends, with five consecutive half-centuries in high-pressure situations as the Lightning found themselves in a tough playoff fight. Across the five matches, Hamilton scored 309 runs at 139 strike rate, averaging 103, highlighted by 74* (45) in a losing effort against Morrisville on the penultimate day of the season.
Dominique Rikhi, New Jersey Stallions
Batting: 502 Runs, 116 Strike Rate, 3 50s, +2.0 Impact per Match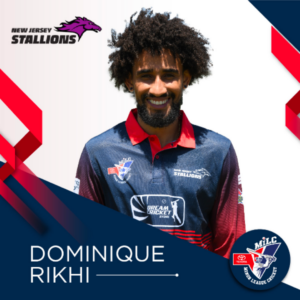 Dominique Rikhi anchored the division champion New Jersey Stallions lineup from the opening position, his 502 runs the fourth most in the Atlantic Conference. Rikhi's measured scoring approach served as a complement to Anthony Bramble, who scored at a much quicker 155 strike rate after being installed as Rikhi's opening partner in the fourth week of the season. Rikhi also showed flashes of his ability to score quickly, compiling 43 (27) against the eventual Southern Division champion Atlanta Fire on the holiday weekend.
Aaron Jones, Atlanta Fire (C)
Batting: 395 Runs, 151 Strike Rate, 3 50s, +12.5 Impact per Match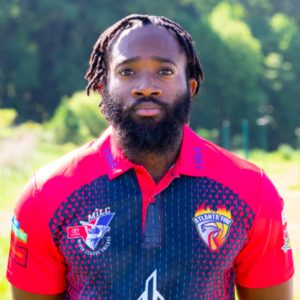 Despite playing in just eight matches — including the playoffs — due to USA National Team obligations, Aaron Jones made a huge impact on the Atlanta Fire, finishing 7th in the Atlantic Conference in total runs. In six of his eight matches, Jones fired off 40+ runs, including a 64 (51) in the Finals, where the Fire came up just short of winning the title. Jones was massive in the playoffs, with a 72 (42) in the Conference Semi-Finals and 76* (46) in the Conference Finals to go along with his finals performance-212 runs in all at a 153 strike rate across just the three matches.
Pranay Suri, Silicon Valley Strikers
Bowling: 26 Wickets, 54.0 Overs, 6.37 Economy, -1.33 Impact per Over
Batting: 259 Runs, 131 Strike Rate, +2.3 Impact per Match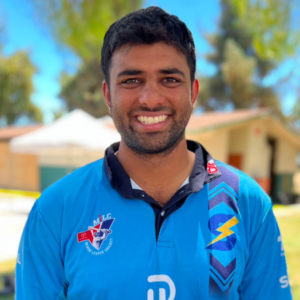 Pranay Suri led the Strikers' bowling attack in 2022, leading the team in wickets — his 26 taken good enough for third in all Minor League Cricket. Suri didn't start the year as a regular in the bowling attack, bowling just five overs from Silicon Valley's first three matches, but he took four wickets from those overs at an economy rate of 4.40 to cement his place for the rest of the season. Suri was one of just two players to take two 5-fors, taking 6/24 against Golden State and 5/10 against Seattle in consecutive matches in the middle of the season. He contributed with the bat as well, scoring 259 runs at a 131 strike rate from the middle order: good for the third most runs on the team.
Usman Rafiq, Houston Hurricanes
Bowling: 23 Wickets, 47.5 Overs, 6.15 Economy, -2.01 Impact per Over
Batting: 191 Runs, 153 Strike Rate, +4.8 Impact per Over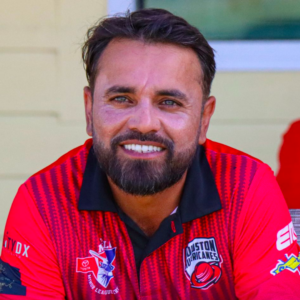 Usman Rafiq was the other player to take two 5-fors on the season, also in back to back fashion: 5/24 vs Lone Star and 6/18 against the St. Louis Americans, which included four consecutive wickets to bowl them out in the final over. The right-arm spinner took 23 wickets on the season. Thirteen of those came from 13.5 death overs, where he also sported an outstanding 4.92 economy rate, equivalent to restricting his opponents' scoring by -44% compared to the average bowler in the same situations. Rafiq was generally used as a finisher with the bat, scoring at an excellent 153 strike rate while coming in during the late overs. His top batting performance was a blitz of 48* (17) in a thrilling chase against the Lone Star Athletics. Rafiq came in with 5.4 overs left and the Hurricanes needing 62 runs and was able to finish off the chase with a four, a six, and three balls to spare.
Nosthush Kenjige, Dallas Mustangs
Bowling: 26 Wickets, 45.3 Overs, 4.95 Economy, -3.78 Impact per Over
Batting: 139 Runs, 140 Strike Rate, 46.3 Average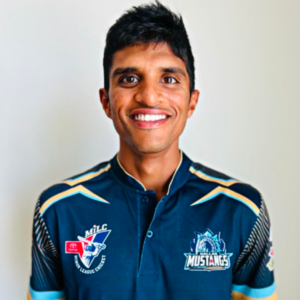 Despite missing time late in the season on US National Team duty, Nosh Kenjige turned in one of the best bowling performances in Minor League Cricket this year. Nosh led the Central Division with 26 wickets — a wicket every 10.5 balls — while sporting the best economy in the league amongst qualified bowlers at 4.95. Given the match situations he bowled in, Nosh restricted his opponents' totals by an astounding 3.78 runs per over. That's equivalent to 15 runs across a match when used for his full quota of overs. Nosh wasn't too shabby with the bat either, following up impressive performances in last year's National Championships with a solid 140 strike rate and 46.3 average while finishing not out in five of his eight matches. That was highlighted by 25* (11) against the Chicago Tigers and 40* (23) against Lone Star.
Sachin Mylavarapu, New Jersey Stallions
Bowling: 17 Wickets, 52.5 Overs, 5.39 Economy, -2.19 Impact per Over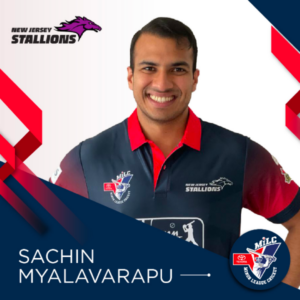 Sachin Mylavarapu turned in another excellent Minor League Cricket season, lowering his economy from 5.52 in 2021 to 5.39 despite a league-wide increase in scoring, good for second best amongst qualifying bowlers in the Atlantic Conference this year. The highlight of the season for Mylavarapu was an absurd three wickets for four runs from 4.0 overs against the New Jersey Somerset Cavaliers on the last day of the season. In that match, he took a wicket and gave up just one run in the first over and had a maiden in the third over to help restrict the Somerset Cavaliers to 63 runs in defense of 130.
Saurabh Netravalkar, Silicon Valley Strikers
Bowling: 18 Wickets, 37.2 Overs, 5.01 Economy, -3.04 Impact per Over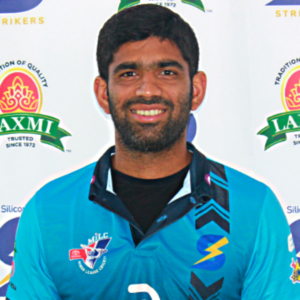 Like his fellow US National Teamer Nosh Kenjige, Saurabh Netravalkar missed some time on USA duty but was incredible when available, putting up the fifth best aggregate bowling impact figures in the league despite missing eight of his team's 18 matches. Netravalkar took a wicket in every match but one, highlighted by 5/17 (4.0) on opening day against Hollywood and 4/13 (3.1) in late July against Golden State. Netravalkar generally bowled his full quota of overs and gave up more than 22 runs just twice on the season, incredible consistency from the former USA Captain.
Phani Simhadri, Seattle Thunderbolts
Bowling: 46 Wickets, 67.1 Overs, 6.13 Economy, -3.05 Impact per Over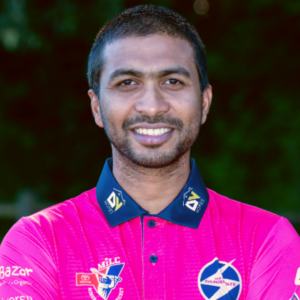 Phani Simhadri's wicket-taking ability was completely unmatched in 2022 as he produced a lengthy list of eye-popping stats. His 46 wickets were tops in Minor League Cricket, 19 ahead of second place Sarbjeet Singh Ladda at 27 and smashing the 2021 record of 32 wickets, produced by Damion Jacobs. Simhadri did most of his damage at the death, taking 29 wickets across 32.1 death overs, good for a wicket every 6.7 balls. Simhadri played 18 matches this year and took a wicket in every single one of them and took 2+ wickets in all matches except two His wicket-taking didn't come at the expense of his economy — in the death overs that he specialized in, Simhadri restricted opponent's scoring by -34% compared to average bowlers in the same match situations.
Pranto Ahmed, DC Hawks
Bowling: 23 Wickets, 46.1 Overs, 6.15 Economy, -1.64 Impact per Over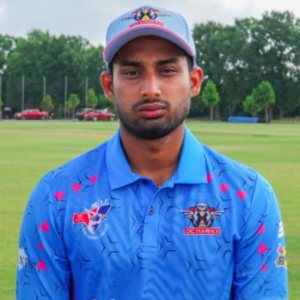 Pranto Ahmed was one of the breakout stars of Minor League Cricket to start the season. Through the first nine games, Ahmed took 19 wickets at a stellar 4.76 economy across 33.1 overs, good for a wicket every 10.5 balls. In each match in this span, he conceded 24 runs or fewer: great consistency to lead one of the best bowling attacks in the league. Pranto Ahmed also provided a little value with the bat, contributing 138 runs from the lower order, highlighted by a 43 (26) against an elite New Jersey Stallions bowling squad.
Saideep Ganesh, East Bay Blazers (12th Man)
Batting: 402 Runs, 136 Strike Rate, 3 50s, +5.0 Impact per Match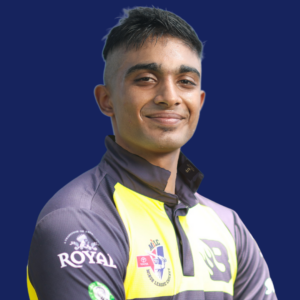 Arguably the top youth bat of 2022, Saideep Ganesh had a great season for the East Bay Blazers after coming across town from the Golden State Grizzlies. Ganesh finished the season with 402 runs, the only youth player to break the 400+ run milestone in Minor League Cricket history, doing so at a respectable 136 strike rate. Saideep's season was highlighted by three half-centuries, the first of which came against one of the top teams in the league, the Silicon Valley Strikers. In that match, Ganesh top-scored at 56 (34) as the Blazers fell just two runs short of handing the Strikers their first loss on the season. His other fifties came in the final two matches of the season off just 32 and 30 balls as the Blazers were in the thick of the playoff chase until the final day.