Atlantic Conference Final
New Jersey Stallions vs. Atlanta Fire
Tom Nielsen returns to preview the Atlantic Conference Final set for Saturday, Aug. 27, with the New Jersey Stallions taking on the Atlanta Fire at 5:30 PM ET at Church Street Park. Tom covers how each team got to this point, their previous meetings this season, does a deep dive in to each side's batting and bowling strengths, and then wraps up with some final thoughts (see the previous preview for the Pacific Conference Final analysis).
How They Got Here
New Jersey Stallions
Looking at their 12-2 record, one would say that the New Jersey Stallions cruised easily to a playoff spot. While it's true that the Stallions were effectively assured of a playoff spot with a few weekends to go, their season included no shortage of dramatic wins, including three matches with last-over wins (two of those last-ball) and four matches they won by 15 runs or fewer. This pattern of close calls continued in the playoffs — a relatively smooth 16-run win to start off their series against Morrisville was followed up (to nobody's surprise under the lights at Church St. Park) by a 1-run win that came down to the final ball to send the defending Atlantic Conference champions back to Finals Weekend for the second straight year.
Atlanta Fire
The Atlanta Fire came out on top of a hard-fought three-team race in the Southern Division, taking first place ahead of the Morrisville Raptors and Atlanta Lightning, all of whom ended on four losses apiece. Atlanta didn't clinch a playoff spot until the final day of the season when they beat the Ft. Lauderdale Lions by 50 runs. The Fire rode an incredible Zain Sayed and Aaron Jones partnership in game one of the playoff series against the Manhattan Yorkers to a 19-run D/L victory. With the remaining matches rained out, the Fire advanced to their first-ever Finals weekend.
Previous Meeting
The Stallions and Fire met on the holiday weekend at Prairie View Cricket Complex, where the Stallions won the toss and elected to bat first. The Stallions got to 168/7 from their 20 overs on the backs of 38+ runs each from Dominique Rikhi, Anthony Bramble, and Ray Ramrattan. Stallions' captain Jessy Singh was able to remove the main threat in Rahkeem Cornwall in the second over, and with Steven Taylor and Aaron Jones away on USA duty, the Stallions were able to stifle the rest of the Fire lineup on their way to a 10-run win. Jessy Singh (2/15 from 4.0) and Manoj Acharya (4/22 from 4.0) were the bowling standouts.
New Jersey Stallions Analysis
First, we'll look at the New Jersey Stallions side in depth. The batting side shows roughly what their projected batting order will be alongside some basic stats and impact per innings. On the bowling side, we show what stage* each bowler is typically used in, as well as their basic stats and impact per over.
*Stage here is defined as Powerplay (PP) as overs 1-6, Middle Overs (Mid) as overs 7-15, and Death overs as 16-20.

The New Jersey Stallions — in both the batting and the bowling phase — carry a deep roster with no obvious weak points. Openers Dominique Rikhi and Anthony Bramble lead the team in runs with differing batting styles. Rikhi plays the steady anchor role, lasting 15+ balls in every match but two on the season while scoring at a relatively low 117 strike rate. Anthony Bramble is the more aggressive of the two, going at a more impressive 148 strike rate and losing his wicket just slightly more often. Sai Mukkamalla comes in at three, sporting the lowest strike rate (104) of any batter with 250+ runs: perhaps too slow, but keeping his wicket at a rate that gives his batting partners the freedom to play more aggressively when necessary.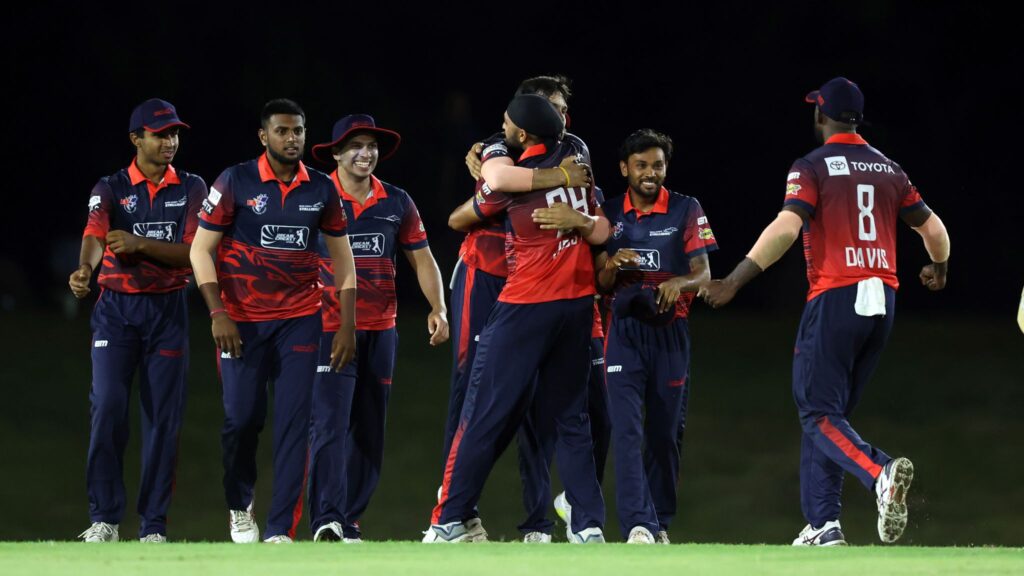 As in 2021, the Stallions sport a bowling attack full of threats, with seven players taking 9+ wickets on the season, tied for most in the league. Captain and US National Teamer Jessy Singh leads from the front, opening the bowling with a tight 5.82 economy rate. Despite having trouble getting into the wickets this year, Singh still sports a better than average bowling impact. Spin-bowling duo Sachin Mylavarapu and Ray Ramrattan dominate the middle overs for the Stallions, Mylavarapu with his outstanding 5.39 economy, and Ramrattan with great wicket taking ability: a wicket every 14 balls.
Atlanta Fire Analysis

The big story for the Atlanta Fire in the playoffs was how would they cope with the loss of Rahkeem Cornwall to the Caribbean Premier League. Cornwall carried the Fire with 531 runs at an astounding 193 strike rate during the regular season. Coming off a great 2021, Zain Sayed struggled mightily for most of 2022 but redeemed himself in the playoff match, scoring 75 off 46 to help carry the Fire into finals weekend, proving to be a suitable replacement for Rahkeem at the top of the order. Aaron Jones and Steven Taylor have missed significant time this year on USA duty but have now returned for the playoffs. While Steven Taylor hasn't quite found his groove in the league yet this season, both pose significant batting threats in the middle order. Wicketkeeper Jahmar Hamilton is more than capable of providing a spark down the order, scoring 317 runs at a 155 strike rate on the season, capped by a 74* (45) against a tough DC Hawks bowling attack.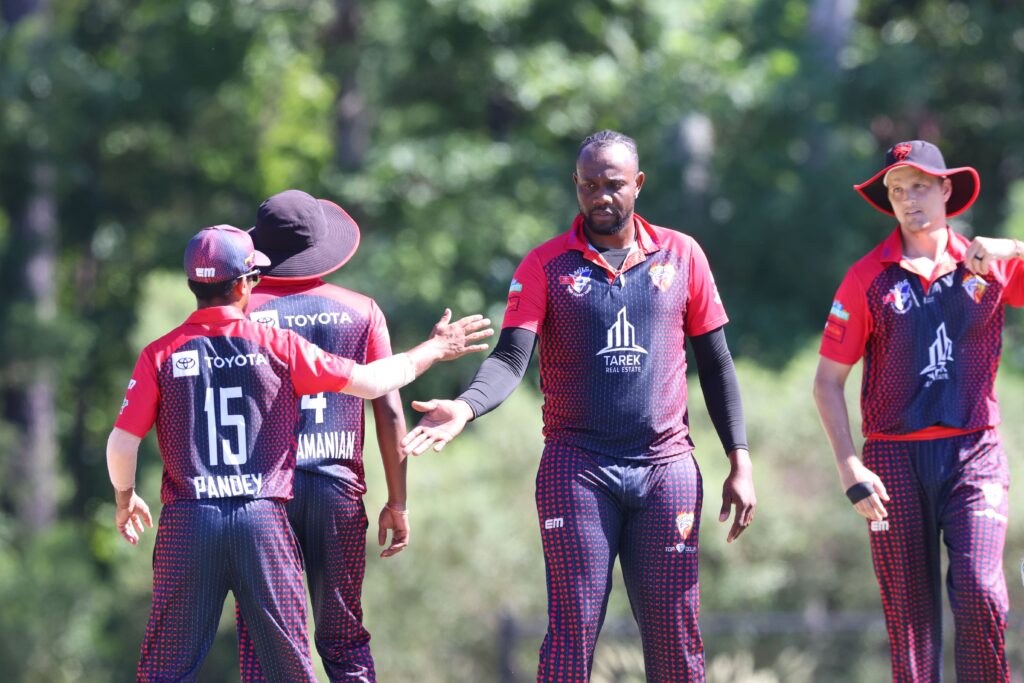 The Atlanta Fire have stable bowling usage: with Cornwall, there was a clear set of five bowlers used nearly every match. Corné Dry and Evroy Dyer open the bowling. Dry continuing his strong form from 2021, restricting opponents' totals by 1.39 runs per over. Dyer is more expensive: his 9.35 economy rate (caused in part by an extremely batter-friendly home ground in Atlanta) registers as the highest in Minor League Cricket among bowlers with 35+ overs bowled. The main threat in the middle overs is Amila Aponso, sporting a 6.89 economy rate and taking a wicket every 17 balls. New addition Nasir Hossain is perhaps the key to the Fire bowling attack and the clearest replacement for Rahkeem Cornwall, taking seven wickets from 12 overs at an outstanding 4.50 economy rate, including figures of 2/6 from 2.0 overs in the first round playoff match.
Final Thoughts
This is an interesting semi-final to prognosticate. The Stallions are a solid team with depth on both sides of the ball; while they don't necessarily have players with numbers that slap you in the face, they've got a steady core that offers them multiple paths to win each game. The Fire, on the other hand, have more open questions: chiefly, how effectively can they replace Rahkeem Cornwall? Will Zain Sayed and Steven Taylor come to form? Is Nasir Hossain's late-season form for real? With the bat, Atlanta will need one of Sayed or Taylor to show up in support of Aaron Jones and Jahmar Hamilton against a really tricky Stallions bowling attack. When the Stallions are at bat, Anthony Bramble may hold the key. He can go big quickly against what can be an expensive Fire bowling side, but if he gets out early, Rikhi and Mukkamalla will have to stabilize and hope for a late flurry from the tail.
Ultimately, the New Jersey Stallions come into the match with extensive experience in these situations, sporting a 5-1 record in Morrisville during the playoffs, including winning last year's Atlantic Conference Final. The Atlanta Fire will need to bring their best game to knock New Jersey off the top spot. Tune in Saturday evening on the MLC Network for more under-the-lights Morrisville Magic!