With just days to go before Minor League Cricket 2022 starts up, it's time to take a deep dive into each division to recap the 2021 campaign and see the major moves of the off-season. MiLC stats guru Tom Nielsen returns with the numbers that matter to preview the season starting on Saturday, June 25.
Impact Stats Recap
The analysis below will reference batting and bowling impact, which is a measure of how many runs each player contributes relative to the average player in the same match situations. For individual players, bowling impact is generally presented on a per over basis, where lower (negative) impacts are better-for example, a player with an impact of -1.5 restricts his opponents' totals by -1.5 runs per over relative to the average bowler. Batting impact is presented on a per match basis, where higher (positive) impacts are better-for example, a player with an impact of +4.5 adds 4.5 runs to his team's total each match compared to the average batter. For teams, these figures are presented on a per 120-over (full innings) basis.
Southern Division
We start in the Atlantic Conference with the Southern Division, the only 5-team division in Minor League Cricket. There are a few changes in 2022, with the Florida Beamers dropping out and two team changes: the Atlanta Param Veers and Morrisville Cardinals have departed, with the Atlanta Lightning and the Morrisville Raptors joining the division.
In 2021, the Atlanta Fire and Morrisville made the playoffs, both losing in the first round to their Eastern Division Rivals. Rain was an issue for this division, with only Morrisville playing their full quota of 14 matches. 

Atlanta Fire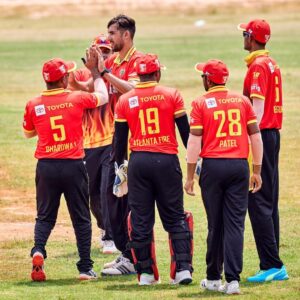 2021 Performance: 10-3, 1st Place; Batting Impact of +9.6 runs per 120 overs, 1st in Division; Bowling Impact of -15.6 runs per 120 overs, 1st in Division.
Big Additions: Zain Sayed, Evroy Dyer
Big Departures: Ricardo Powell, Hanchard Hamilton, Shamar Springer, Sagar Patel, Rishi Bhardwaj, Akhilesh Bodugum
The Atlanta Fire took the Southern Division by a handy 3-game margin in 2021 before being knocked out of the playoffs in the quarterfinals by the Empire State Titans. They return 61% of their production from a bowling attack that was third best in MiLC with an impact of -15.6 runs per 120 balls. Returning are Amila Aponso (-2.00 runs per over), Corne Dry (-1.91), and Ateendra Subramanian (-1.01), while Akhilesh Bodugum (-0.58) departs for the west coast and the Seattle Thunderbolts. Evroy Dyer (-0.42) will come in from the Atlanta Param Veers to help bolster the attack.
Things will be challenging on the batting side for the Fire – Aaron Jones and Steven Taylor are likely to miss much of the season on US National Team duties. In addition, their top five run scorers from 2021 are gone: Sagar Patel, Hanchard Hamilton, and Shamar Springer cross-town to the Lightning, along with Rishi Bhardwaj (to Seattle) and Ricardo Powell. Not all is lost, though: Zain Sayed comes over from the Atlanta Param Veers, where he was four in all Minor League Cricket with a batting impact of +11.3 runs per innings, smashing 467 runs on just 286 balls for a strike rate of 163. Still, with just 31% of batting production returning from last year, the Fire will need a bat or two to step up to match last year's success.
Morrisville Raptors
A new team with an excellent new logo ushers in a new era of cricket in America's cricket hotbed of Morrisville, North Carolina. We're going to compare the roster here to Morrisville's previous MiLC team in 2021, which finished with a 7-7 record.
The Raptors bring a good chunk of the decent bowling attack that represented Morrisville last season. Last year's top wicket taker for Morrisville, Aditya Gupta (16 wickets in 31 overs, impact of -1.38 runs per over), has moved on but Karthikeya Jagadish, Siva Kumar Duvvarapu, Aditya Padala, and Murali Ankaraju all continue on in North Carolina after strong bowling returns in 2021. The bowling attack will be bolstered by two big-name signings in Jacobus Pienaar and Dane Piedt. While Pienaar gets more attention for his bat, he was a vital cog of St. Louis' bowling attack last year, taking 13 wickets in 45 overs with a bowling impact of -0.91 runs per over. Off-spinner Dane Piedt brings valuable experience, having appeared in nine Tests for South Africa.
Obus Pienaar will provide much-needed stability to the Raptors' batting lineup that loses its top four batters from 2021 – including US National Team stalwart Jaskaran Malhotra, who was tenth in Total Batting Impact last year across all Minor League Cricket despite appearing in just 11 matches. Also new to Morrisville is all-rounder Vinothkumar Kandaswamy, who had two half-centuries for the Atlanta Param Veers last year. The top returning bat for Morrisville is Lahiru Milantha, who contributed 157 runs across seven innings in 2021, at an impact of +2.3 runs per innings.
The Raptors' Wild Card selection is West Indian bowling-allrounder Colin Archibald. Archibald carries a little more first-class experience in the West Indies than in the shorter formats, but recently made his maiden century at number 10 for the Leeward Islands in the West Indies 4-day Championship, scoring a brisk-for-first-class 106* (109).
Orlando Galaxy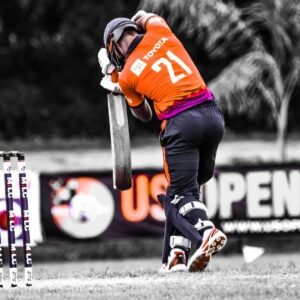 2021 Performance: 4-4, 3rd Place; Batting Impact -24.4, 5th; Bowling Impact of +21.4, 5th
Big Additions: Dimitri Adams, Manav Patel
Big Departures: Christian Herrera, Rohit Dutchin, Amahl Nathaniel, Ramone Medwinter, Asghar Abdullah, Kemar Jarrett
Simply playing most of their matches this year would be a relative win for the Galaxy, who in 2021 had an unfortunate six no-results from their 14 matches, double the next highest in the league. Their .500 record masks what was in truth a challenging season for the team, as they recorded the worst net run rate in all Minor League Cricket. Their batting and bowling impacts were each second worst in Minor League Cricket on a per 120-ball basis.
The Galaxy return just 28% of their bowling production from 2021: the most significant departure being Rohit Dutchin, who took eight wickets from 24 overs at an economy of 7.46. Sticking around is Tagenarine Chanderpaul, who took seven wickets from just 9.0 overs for an astounding bowling impact of -3.71 runs per over. Manav Patel comes over from the Florida Beamers (on hiatus for the 2022 season), while Matthew Comerie is the most experienced returning bowler for Orlando, having contributed a roughly league-average 21.5 overs for the Galaxy last season.
Tagenarine Chanderpaul forms the backbone of the Galaxy batting attack, having contributed 260 runs in just 4 matches (all 50s) in 2021, good for a batting impact of +8.0 runs per match. Second highest scorer Meetul Patel (203 runs at 111 SR) also returns from last year.
Atlanta Lightning
Like the Morrisville Raptors, the Atlanta Lightning are new in 2022 to the Southern Division. The Atlanta Param Veers and their 4-7 record departed.
Evroy Dyer – the Param Veers' top wicket taker in 2021 – has moved across town to the Fire, but the Lightning secured Shamar Springer from their Atlanta rivals. The Lightning have signed Neive McNally, Heer Patel and Sahil Charania, who all played on a middle-of-the-road Param Veers bowling attack. The Lightning also picked up Aditya Sharma from The Philadelphians, who took 10 wickets in 26 overs in 2021, as well as Kyle Phillip from the Ft. Lauderdale Lions, who has been in and around the national team. Former West Indian left arm spinner Khary Pierre also comes into the squad and could spearhead the Lightning bowling attack in 2022.
The aforementioned cross-town swaps define the batting story for the Atlanta Lightning – one of MiLC's top bats, Zain Sayed, has moved to the Atlanta Fire. Coming from the Fire are Sagar Patel, Hanchard Hamilton, and Shamar Springer as the Lightning build up some batting depth. From the Param Veers roster, the Lightning will feature Mark Parchment and Sahil Charania, second and third in total batting impact for the Param Veers.
Ft. Lauderdale Lions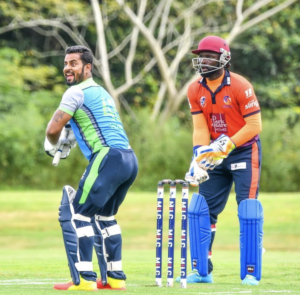 2021 Performance: 4-8, 5th Place; Batting Impact -3.8, 4th; Bowling Impact of +15.6, 4th
Big Additions: Kiran Kumar Reddy Vade, Ujjwal Vinnakota
Big Departures: Kyle Phillip, Devendra Bishoo, Ricky Nayar, Timothy Surujbally
The Ft. Lauderdale Lions got off to a challenging start in 2021, starting the season 1-6 in addition to a couple rain outs. The Lions recovered with a few late wins against their Florida rivals, but are a challenging team to evaluate in 2022, having lost a couple key pieces and added no players with 2021 Minor League Cricket experience, leaving them with one of the least experienced squads in the league. The Lions' new Marquee players both carry some all-round ability: Kiran Kumar and Reddy Vade, who played club cricket in the Washington Cricket League in 2021, and Ujjwal Vinnakota of the North Texas Cricket Association.
The Lions bowling attack will lose the massively experienced West Indian Test bowler Devendra Bishoo, who took 14 wickets in 45 overs for the Lions last year, compiling an excellent bowling impact of -0.86 runs per over. The Lions do keep their next four most experienced bowlers, including Czech Republic international Honey Gori, who sported a -0.35 runs per over bowling impact across 24.4 overs in 2021. Kyle Phillip departs for the Atlanta Lightning.
On the batting side, the Lions retain their top two run-scorers from 2021: Omari Williams (236 runs, batting impact +3.0 runs per match) and Roy Silva (274 runs, batting impact +4.9 runs per match). The losses of Timothy Surujbally, Ricky Nayar, and Anirban Majumdar take a combined 463 runs of production out of the lineup from last year.