UST Minor League Cricket Youth 2022 registration is now open for all U21 and U19 youth players who reside in the United States. This year will see 11 teams participating in a weeklong competition to be held at Prairie View Cricket Complex, Houston, TX from July 25-29.
Tournament Format
MiLC Youth teams participating in this tournament are:
Atlantic Conference
Atlanta Fire
Morrisville Raptors
New Jersey Stallions
Manhattan Yorkers
DC Hawks
Pacific Conference
Houston Hurricanes
Dallas Mustangs
St. Louis Americans
Seattle Thunderbolts
East Bay Blazers
Silicon Valley Strikers
All of these teams will play four round-robin matches from July 25-28. The top teams from each conference will play the conference finals on Thursday, July 28. The winners of the conference finals will then participate in the UST MiLC Youth 2022 Finals on Friday, July 29.
Each team will have the following roster configuration:
Three U21 Domestic Players – Residing in the team's region
Nine U19 Domestic Players – Residing in the team's region
Three U19 players – Free agents from anywhere in the USA
Please note that there is a provision allowing exceptionally talented 15-year-old youth players to play in this tournament, but no more than one such player can be part of the playing 11 in a team. Teams can decide not to play any 15-year-old players.
Eligibility
All youth players born after 9/1/2000 and before 9/1/2007 and are residents of the United States are eligible to play in UST MiLC Youth 2022. Youth players traveling to the USA from other countries (i.e., not having continuous residence in the USA over the last six months) are not eligible to participate in this tournament.
Sponsorship
We are thankful to UST, a global leader in providing digital transformation solutions to the world's top enterprises, for being the title sponsor for the inaugural MiLC Youth tournament. UST executives have been outstanding in their support of youth cricket development in the USA, and we appreciate their partnership in developing MiLC Youth.
"At UST, we transform lives through the power of technology and our social commitment of going beyond and giving back. We do it collaboratively with our clients and communities. UST is excited to partner with MiLC to bring this inaugural youth tournament to create boundless impact for all the youth cricketers in the USA. Happy to support the future flag bearers of this wonderful sport" said Phani Chitneni, Sr. Exec at UST.com
Registration Open
All youth players born after 9/1/2000 and before 9/1/2007 should register to play in UST MiLC Youth 2022 tournament. Registration is open from June 11th, 2022 to June 18th, 2022.
"We have developed pathways for talented youth cricketers in the country, which includes MiLC Youth as one of the steps for these cricketers to display their potential. We are so glad to be able to conduct this tournament and provide those pathway opportunities," said Jagan Nemani, head of MLC Academies.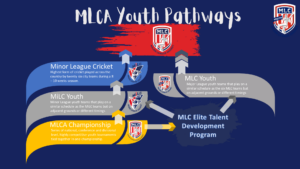 All eligible youth players should register to be considered for UST MiLC Youth 2022 tournament here.