While most pro athletes in this country have followed a relatively linear and predictable path in order to make it to the top of their game, there's no template, blueprint, or well-traveled path for professional cricketers in the US. To make it to Minor League Cricket, players have had to navigate some pretty interesting routes (catch-up on parts four, five and six for more stories). Steve Steinberg from CricAmerica talked with two players who were born in the US, but spent a lot of their youth in India before returning to the States to discover their cricketing fame.
Sanjay Krishnamurthi, East Bay Blazers
"I started playing tennis ball cricket with my dad at the age of five in baseball fields in Arizona. And when I was seven, we watched the world cup in which India won. I remember waking up at one in the morning to watch the finals. And that was when I got really excited about cricket. Soon after that, our family moved to India, so I was able to start playing leather ball cricket over there."
"I joined a cricket academy pretty soon after I moved to India and at the age of 10, I moved to a school that was known for its cricket." And despite coming from a far less cricket-crazed country, Sanjay found success early. He was selected into legendary Indian spinner Anil Kumble's Spin Stars — a contest that featured the best young spin bowlers in his home state of Karnataka.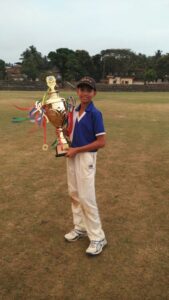 Not wanting to be known simply as a bowler, Sanjay set his sights on becoming a more well-rounded cricketer. "At 15, I decided to focus more on my batting. The way the system works there is that you get to choose whether you want to try to get selected as a batsman or a bowler. They don't give opportunities for an all-rounder to do both in the selection. So, I decided to focus that year on batting and I had the highest run score in the school tournament and then managed to make the state team. I played for Karnataka that year — Under-16 — as a batsman."
Even though he was drawing attention to his playing in India, Sanjay still kept an eye on what was going on back in the US. "USA Cricket first came to my attention when one of the guys that I knew from Arizona, Raj Vyas, took seven wickets in the Under-19 qualifiers. That news made it all the way to me in India. And that's when I started looking into USA Cricket, because I'm an American citizen. Once I got interested in USA cricket, my first idea was to try to be part of the next USA Under-19 squad that could potentially make the World Cup."
And just as USA Cricket was now on Sanjay's Radar, Sanjay was also on the radar of cricket higher-ups here in the US. After being asked to work out with the USA national team who were in Mumbai for a training camp before their tour of Nepal, Sanjay was invited to a training camp in Houston. And that's when life bowled him and his family a googly. "So, two years ago, we came to Houston for a camp hosted by USA cricket. We were also going to visit my grandparents for a couple of weeks. And then Covid happened, and we weren't able to go back. After about three months, my dad started looking for jobs here and got one in the Bay Area. Our whole family relocated, and I decided to start playing cricket here in San Francisco."
That led to him being signed by the East Bay Blazers for the most recent Minor League Cricket season. Sanjay proved himself to be a true all-rounder by finishing in the Top 10 in both batting average and bowling economy for the Pacific Conference. And a call-up to the men's national team wasn't far behind. "I had just come back the previous night from one of the minor league games in St. Louis and was a bit jetlagged. When I woke up, I checked my phone and there were WhatsApp messages saying that you've been selected for the team you'll need to get on a flight. And then it was kind of frantic rush to get Covid tests and packing done. I was in the airport about three or four hours later."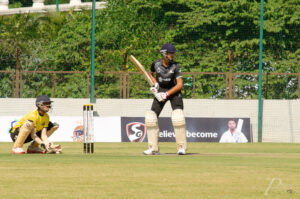 Having been around top-tier cricket in both the US and India has given Sanjay some perspective: "I think minor league is just going to continue to grow. And the launch of Major League Cricket should be huge. And once both of them are working and minor league is feeding players into the major league, I think that's gonna bring some really solid structure. I think that the talent in America is quite good at the top level. But in India, you might have a thousand players as talented as maybe the top 30 or 40 here, so the talent is here, but the depth of talent isn't quite here. In India, the talent depth is amazing. But I think that the US is on a really good path and could possibly be a Top 10 or Top 12 country in the next few years."
Who would Sanjay want to play with on his Dream XI? "Jasprit Bumrah, because you need a solid death bowler and he brings wickets and can control economy at any time. Another bowler would probably be Rashid Khan for the same reason — he can take wickets at any time. In terms of batting, I would say AB de Villiers. He's my favorite batsman to watch. And I think someone like Kieron Pollard would be able to scare the opposition."
Jessy Singh, New Jersey Stallions
While many of the country's top cricketers developed their love for the game abroad, Jessy Singh's story is unique. Born in the US, he moved to India where he lived for several years before returning to the New Jersey area as a teen. Ironically, it wasn't in India where his love of cricket was born. "I was introduced to cricket in India, but never took any coaching or played any school cricket — just village cricket for fun a few times here and there. Actual cricket, for me, started here in New Jersey."
"I started playing cricket probably later than most kids. I think the first time I actually played hard ball cricket with a real cricket ball was when I was 16 or 17. I used to live in an apartment complex in New Jersey where there was a big Indian and Pakistani community. They would gather in the evening and start playing cricket right in front of the basketball court with a tennis ball. My dad's friends in Princeton also used to play on Saturdays on Sundays right in their front yards with the stumps in the driveway. That's when I started playing."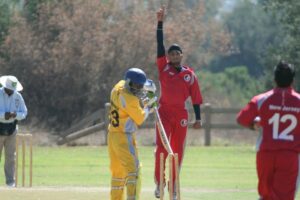 "I guess you could say I had a bit of natural talent. I would run in and just try to bowl fast. Some people who were playing in a league saw me and they started pushing me to play in a local league. It gives you a bit of motivation when people are talking about you and pushing you. And I started to like it. I sort of started becoming the talk of the area and that's when I realized that I'm only 16 or 17 years old and there's an Under-19 national team, so if I really pay attention and if I really give my 100 percent and work hard, I can make it. I wanted to play for USA and once I put that in my head, my goal was clear."
"There were trials being held for the Under-19 Atlantic region and I went with a club team. I was practicing on the side — I was bowling quick compared to some of the young guys — and I caught the eye of some of the Atlantic Region representatives and they wanted me to try out. I made the team and then was part of the Under-19 reserves for USA. I was expecting to make the Under-19 team for the World Cup qualifier, but somehow I didn't make it. And I think that motivated me even more to work harder and make the senior team." A few years later, in 2015, he achieved that goal and was named to the USA men's national team.
While the years he spent living in India as a kid weren't instrumental to his cricketing career, a trip back to India was. In the HotStar docuseries "US6: The Homecoming" in 2018, he was one of six American cricketers chosen to visit India and experience its cricketing culture in-depth. "Being picked as one of the six guys out of I think 150 kids was a blessing in itself. It was such a huge set-up where you were rubbing shoulders with the IPL players and some of the greats and legends of the game like Sunil Gavaskar and Daren Sammy. Spending that one month among those cricketers on a daily basis tremendously helped my game. We were part of the Rajasthan Royals for two weeks and we were practicing with them, traveling with them, eating with them. That was definitely a different experience. That one month boosted my inner dedication and passion for the game even more."
Further motivation and an added emphasis on fitness came as a result of a torn ACL and the rehab that went with it. "I was fit before that, but after the surgery I realized that my body is my biggest asset. If I don't stay proactive with it then I can get injured and I could lose a lot of time. To spend that one year out of the game and literally two or three months in bed was definitely a turning point."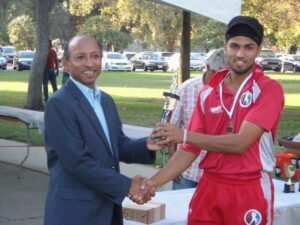 All that rededication and focus paid off. In 2020, he was drafted by the Guyana Amazon Warriors of the Caribbean Premier League. "I got into the CPL and I didn't even know it. This was during the Covid times when we were in lockdown and I was actually laying down on my couch and I just see a message from Ali Khan: "Congrats, bro. Finally!" And I'm like "What do you mean?" I had no idea whatsoever about it because the draft had happened very internally that year and I thought they might mainly stick to local players. When he told me I was picked by the Amazon Warriors, I was in shock. That's one of your dreams to be part of the CPL."
Jessy's commute to his Minor League Cricket team this past season was a considerably shorter trip. Singh was dominant with the ball for the New Jersey Stallions, finishing in the Top 10 in the Atlantic Conference in both wickets and economy. The Stallions made it all the way to the MiLC finals before being stopped by the Silicon Valley Strikers.
And he's convinced Minor League Cricket can influence the game both locally and internationally: "I feel like the sky is the limit for this league. It's not just big within the country. I feel like minor league has become the talk of cricket globally, as well. We get messages on social media so many times talking about minor league. A lot of people from outside of the country want to be part of it. And major league is going to start next year. That's gonna be a great opportunity not just for us, but for every cricketer and every youth growing up in this country who's looking to play cricket professionally."
Who would Jessy want to play with on his Dream XI? "I think first would be Dale Steyn. And you wouldn't want to miss out on Rohit Sharma. I have quite a few names in mind, but I would want Imran Tahir to be a part of it as a spinner. And you can't leave out Andre Russell — because Rovman Powell is already part of our (Stallions) team. So, Rovman is already there, so I'll take Russell.