WOW! We didn't know quite know what to expect on the first-ever weekend of action in the Toyota Minor League Cricket Championship presented by SLING TV, but we sure saw the huge hits, stunning yorkers, thrilling comebacks, and dramatic final overs that the T20 game delivers worldwide. Only this time, and for the first time on this scale, we saw that type of action in no fewer than 24 matches spread across these United States of America.
We can't capture it all in one post, but here's a taste of what opening weekend delivered – and don't worry if you missed it, we have seven more weeks of regular season play still to come (all streamed live and free to watch!).
DRY DRAMA
Getting us underway with a rollercoaster of action across 15 matches, Saturday's opening day offered up incredible turnarounds in multiple locations. At the Atlanta Cricket Fields, the hometown Fire looked stalled in their run chase, registering only 81 runs on the board from 11 overs after bowling out the Cavaliers for 187 runs. But then former West Indies international Ricardo Powell turned it on with 55 off 27 balls, setting it up for Corne Dry to close it out by hammering 26 from only nine deliveries. Dry's batting added to his penetrating bowling spell, deservedly winning the South African star Man of the Match honors.
Give it up for the @FireAtlanta v. NJ Somerset Cavaliers "Man of the Match", @Corrydry 🤩🙌 🏏 Taking 4 wickets in the first innings and finishing 26, not out, off only 9 balls, he really wowed the crowd!!! pic.twitter.com/cWcn4Yykqz

— Minor League Cricket (@MiLCricket) August 1, 2021
MANIA AT MOOSA
At Moosa Stadium in Houston on Saturday, the Hurricanes faced the daunting task of smoking 79 runs from only 36 balls, having only made 97 runs from 14 overs and with five wickets down against the Austin Athletics. No chance, right? Ah, you know where this is going……
Mania at Moosa 😮 Houston Hurricanes win by 3 wickets over Austin Athletics after an extremely close match! Take a look at this very costly NO BALL that went for 6 giving the Hurricanes that fighting chance!

SCORECARD: https://t.co/w9zmlOy76l pic.twitter.com/gJLwwYO6t9

— Minor League Cricket (@MiLCricket) July 31, 2021
YORKERS NEVER GO OUT OF STYLE
Favorite yorker of the weekend? Here are two contenders:
KNOCKED HIM OVER! A splendid yorker by our Canadian international superstar Jeremy Gordon to clean up the batsman. Gordon bowled a superb spell of 4-0-12-2. @MiLCricket #ThePhiladelphians #PhillyCricket #CricketReloaded pic.twitter.com/7oEgeRZZYE

— The Philadelphians Cricket (@philly_cricket) August 1, 2021
Fantastic to see #TeamUSA🇺🇸's superstar @IamAlikhan23 lighting up the first day of #MinorLeagueCricket🏏 with his trademark stump-shattering yorkers out in force for the Houston Hurricanes vs Austin Athletics in Texas!

FOLLOW LIVE➡️: https://t.co/5LG0ggQ6EE@KKRiders @TKRiders pic.twitter.com/7kPX4uUHmV

— USA Cricket (@usacricket) July 31, 2021
WE MIGHT RUN OUT OF BALLS, HERE…
If T20 cricket isn't bringing the drama in the late overs, we're not doing it right. And the weekend ended with fitting mayhem in sunny Southern California on Sunday afternoon. The SoCal Lashings looked up against it, needing 41 off the final four overs with five wickets down against the San Diego Surf Riders. It didn't look much more promising for the Lashings by the time the final over started, with 20 needed from the final six deliveries. Then Elmore Hutchinson, who'd been scratching around looking for form to that point, started connecting with some blistering swings – the veteran US National Team batter delivering three consecutive sixes to win the match for the Lashings.
SoCal Lashings turned out to be extremely dangerous with the bat! Elmore Hutchinson hits 3 HUGE sixes to win the match! pic.twitter.com/XfOUpz0WjV

— Minor League Cricket (@MiLCricket) August 2, 2021
UPS AND DOWNS
While we're all excited to have cricket across the country in America's first nationwide T20 competition, this is ultimately about who comes away with the championship. Opening weekend gave us some clues on who will be in and out of contention: in the Pacific Conference, one team came away with two wins, the Michigan Cricket Stars. The Thunderbolts, meanwhile, will head back to Seattle from California with some thinking to do, having lost all three of their matches. Over in the Atlantic, three teams secured two wins: the New England Eagles, New Jersey Stallions and the Manhattan Yorkers. The Cavaliers split their games, but laid down a marker on Sunday, smashing the weekend's highest total by some distance against the Param Veers.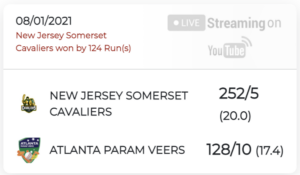 The Atlanta Param Veers were one of three teams in the Atlantic to lose both their matches, along with the Florida Beamers and Ft. Lauderdale Lions. View the full scorecards and standings from the weekend.
THE REAL WIN ON OPENING WEEKEND
But you know what, scratch all that – ultimately it isn't really about winning and losing as we work together to grow the wonderful sport of cricket across America. It's about creating moments like these for the next generation of fans:
@MiLCricket getting autographed by @IamHammadAzam Seattle Thunderbolts vs Golden State Grizzlies pic.twitter.com/uGoU19sdzt

— Zahaib Akhtar (@ZahaibAkhtar) August 1, 2021
See you next weekend, with no fewer than 27 games scheduled for this Saturday and Sunday!