SMIT PATEL, CRICBUZZ
Minor League Cricket, Week 4 Wrap: The return of Deonarine and Syed Abdullah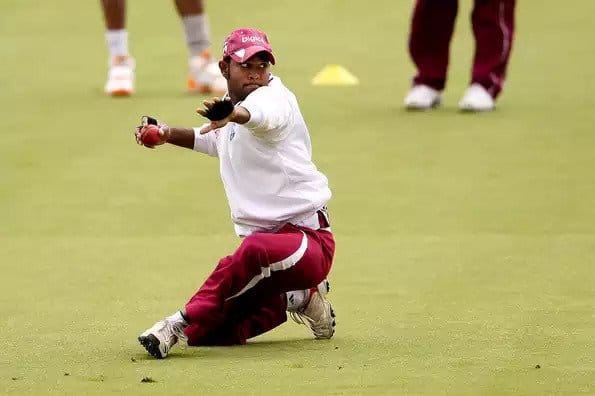 Week 4, the penultimate week of Minor League Cricket (MiLC) exhibition games for this year, saw 10 games being played among the teams from Eastern conference, Central conference and the San Francisco Bay area. The weekend also marked the conclusion of the exhibition games for the Eastern conference teams before the winter chill starts settling in the region. The remaining teams from the Central conference and the Western conference are set to wrap up all of their scheduled fixtures next weekend.
In the Western conference, East Bay Blazers' teenage sensation Sanjay Krishnamurthi impressed again with a quickfire 43 of 19 balls along with Shiva Vashishat's breezy half century. But the batsmanship of highest order came from the former West Indies test batsman Narsingh Deonarine, who amassed 83 off 48 balls.
Legion of cricket fans remember Deonarine as the modern-day Hollies (the leggie who got Bradman out in his final innings) for silencing a packed Wankhede and sending Sachin Tendulkar back to the pavilion in his final Test innings. The romantics reminiscing the Caribbean cricket folklore might remember him for clubbing that 'million dollar six' on the penultimate ball to take Guyana over the line in the final of the inaugural Stanford T20 tournament. But there is more to the Deonarine story, he believes.
"The best is yet to come" said Deonarine who is now eligible to play for the USA. "My son who is seven and is aspiring to be a cricketer made me want to do this for him, so that he can see me perform at the highest level".
Deonarine injured his shoulder in his final game in the West Indies first class circuit and was left in the lurch after that. With months of delay and clear unwillingness of the authorities to step in and have his shoulder surgery done, Deonarine, clearly frustrated, gave up his West Indies future and moved to the USA at 33.
After his move to the US, Deonarine was at a crossroads. He got an offer from a club in Australia to move there as a player-coach and at the same time ACE reached out to him for a similar role in San Francisco as well.
"I think I made the right choice. I am enjoying my role working with this young lot around me. There is a lot of untapped cricketing talent in the US. Growing up in Guyana, even in club games we had many of our international stars turning up to play. Guys like Chanderpaul, we used to idolise them and even played with them. Youngsters here haven't really had that kind of an opportunity to learn from and rub shoulders with their role models.

"Even today in my partnership with Rahul Jhariwala, we constantly had a dialogue on the way the pitch was behaving, our approach to chase the target and picking the right bowlers to go after keeping in mind the conditions. It was worth my time in the middle. Little things like these make a lot of difference. Very satisfying," added Deonarine
In the Eastern Conference, the NJ Somerset Cavaliers juggernaut rolled on. The Cavaliers have now finished their exhibition games losing only one out of six games. This weekend too, they pulverised their opponents, staying unbeaten in all of their three matches while piling up 200 twice.
The Cavaliers played with an element of ruthlessness – fairly evident in Chanderpaul Hemraj's heroics of carting six sixes in an over, Aaron Jones' hundred and a 99, and also Syed Abdullah who came to the party with a 48 ball hundred.
Nicknamed the 'Tank', because of his burly frame, Abdullah moved to the US at the age of 12 with his family from Pakistan. Being a cricket nerd right from Pakistan days, Abdullah would hop onto any and every opportunity to play cricket after his move to Brooklyn in New York – often travelling two hours each way alone as a school kid to Queens, the then cricketing hotspot in New York.
Innate batting talent and this zeal for the game earned him a spot in the US U-15 squad tour to Cayman Islands. He was refused an entry on the flight owing to lack of proper visa documentation. A teary-eyed Abdullah was consoled by his father to never give up and keep doing what he did the best, simply keep playing cricket.
Playing cricket he did, to the best of his abilities. For over a decade after his U-15 day, Abdullah toiled away in leagues all over the US, often playing over 50 games in an year. Things changed when Abdullah was invited to play for a New York eleven against the visiting MCC. Serendipitously, the then USA head Pubudu Dassanayake was in attendance and he liked what he saw: Strong base at the crease and crisp effortless tonking of the cricket ball.
Abdullah was immediately drafted in the USA team. He had a brief stint with the national team before form and fitness led to his axe.
"It is great to be working with Pubudu again at the Cavaliers. He tends to get the best out of me. He understands my game well. I have put in a lot of hard yards on my fitness. I have lost 35 pounds in 6 months and haven't felt this good about my game and myself in a long time. It was great to get this innings under my belt. It was our final game and it was very gratifying to finish on such a high" said Abdullah.